Used SUV Deals at Jay Hodge Chevrolet Muskogee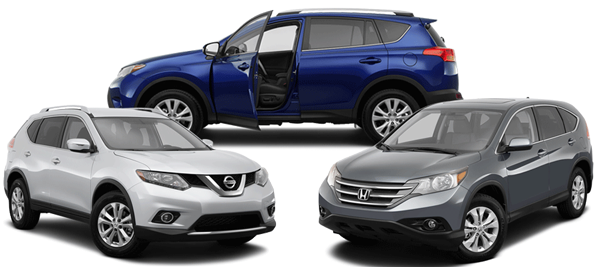 Used SUV Deals Near Tulsa, OK
If you've spent any amount of time scanning the field for an SUV that has everything you're looking for and a great price to match, you've probably already realized something: It's a big job. The universal popularity of SUVs has led manufacturers to produce them in all shapes and sizes to satisfy the demand. That's great if you like a lot of options, but it can also be challenging when you're looking to narrow the field to find your favorite.
At Jay Hodge Chevrolet, we stock a wide array of these popular vehicles for your browsing pleasure – and our website provides handy search tools to help you find your favorite quickly. And when you search our diverse used inventory, you're in for an incredible deal on top of our already low everyday prices!
Selection, savings, and service are at the heart of everything we do here at our Tulsa-area dealership, and we're excited to help you find the used SUV you've been searching for.
High-Quality, Amazing Value
When you're shopping for a used vehicle, it's extra important to find that perfect balance of quality and value. You're looking for a fantastic deal, but you don't want to get one by cutting corners on crucial things like safety, performance, and reliability.
That's not an issue when you shop the used selection at Jay Hodge Chevrolet. We only stock vehicles that meet our high standards for quality. Our professional technicians perform a thorough inspection of each vehicle before it's listed for sale at our dealership, so you can be confident in your used SUV purchase.
Low Prices on Used SUVs
Everyone has their own set of priorities when it comes to finding the perfect SUV. Maybe you're looking for an efficient, fun-to-drive subcompact variation for your daily commute. Or a spacious, three-row model for comfortable road trips. If you're an adventurous sort, you might be looking for a used SUV that can perform just as well off the road as it does on it. One thing is true for used SUV shoppers across the board: They're looking for a great deal.
Jay Hodge Chevrolet makes sure you can get one. We price our vehicles – both new and used – competitively low from the start, and then sweeten the deal with savings on featured models, low-interest loans, and other offers that can keep more of your hard-earned money in your bank account where it belongs.
Find Your Used SUV at Jay Hodge Chevrolet
Don't spend another minute stressing over your search for the ultimate used SUV. Start browsing the online inventory at Jay Hodge Chevrolet and you're just a few clicks away from getting an outstanding deal on the perfect one for your needs and budget.
Keep in mind that our used vehicle inventory is in constant motion as smart shoppers like you claim their favorites, so if you see one you're interested in, contact us to take the next steps. We are standing by to answer your questions and provide additional information so you can get the right SUV for the right price – with the attentive service you deserve!